We've recently rolled out a new version of our Linktrack software, and I thought this was as good a time as any to get some more users participating in our bug bounty program.
Note: This program is intended to last for one month. If this post is more than a month old and you found something, please email us to see if there's any reward money left.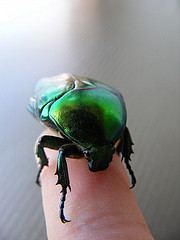 The rules are simple: Find a bug on the site, and we'll pay you for your efforts according to the fee schedule below.
Bug reports must include a reasonable number of the following to to find and duplicate the problem (explain it to us like we're five):
screenshots
links
notes
browser information
steps
examples
Payments will be made via PayPal a day or so after you submit your report. We'll run this program for one month or until our $250 budget runs out.
Bugs are worth the following:
Typos: $.50
Layout (this looks weird in my browser): $1.00
User interface (I'm clicking the button, but it's not working!): $3.00
Broken features (I'm getting an error page): $15.00
Please send your bounty request and supporting documentation via email along with your PayPal email address for payment. We'll reply to let you know if you're eligible.
If you have to submit more than one request that's OK, but please try to group your stuff together whenever possible.
Thank you!
Keeton
---
Update: bugs reported
The following issues have been reported and are no longer eligible:
Typos in the "Follow Linktrack on Twitter" box have been reported.
The 'recent' link in the footer shows an unfriendly XML page.
You have a post titled "Unique Selling Propostion (USP)" – in the title, proposition is spelled incorrectly.
on the FAQ page, "yardwork" is not a real word. It should be "yard work"
Usability concern, not a bug – On the signup page, please have your terms of service open in a new window or popup
Footer needs to be fixed, the year is right next to Danifer Web Services I think there should be a space there and there's a > floating on the bottom.
On http://linktrack.info/p/affiliate the word "affiliate" is spelled incorrectly
on http://linktrack.info/p/faq — "ebay" should be "eBay"
Unlimited Clicks, Links Won't Expire, Turn Links On And Off links not working properly (Under "Features", left side of page
Undisclosed security improvements. Includes removal of PHP version reporting.