ROI, or Return On Investment is a critical metric for success in online marketing. It's important to know where your clicks are coming from, but it's even better to know which ones are turning into sales.
Measuring ROI with Linktrack is simple thanks to our Conversion Tracking feature. If you have a Professional account, just click the "Track Conversions" check box when you make or edit a link. Once it's turned on, you can download a snippet of HTML code that can be placed on any successful sale or conversion page.

When a click turns into a conversion, it's recorded in our system!
At Linktrack, we use our own Conversion Tracking feature to measure the success of our advertising campaigns. Here's an example from our latest Google AdWords ad: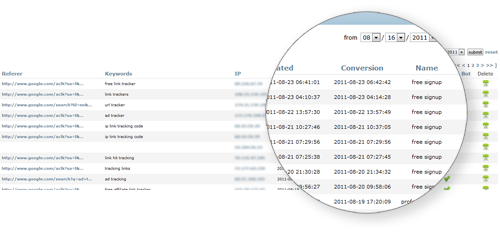 Use conversion tracking to measure ROI from:
Pay-Per-Click marketing
Banner advertising
Traffic exchanges
Affiliate marketing
and more
Try it now with a Professional account and get your first month free for only $1!