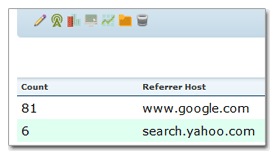 We've added a new report for referrer hosts, available to Professional level account holders.
This report lists the top referrer hosts for your link, sorted by the most active referrers.
It's similar to the top 10 referrers report you'll find on the charts page, but we've expanded it to include all traffic sources. Use the it to get an idea of which web sites are sending the most traffic.
If you have questions about the referrer report, check out our post on referral tracking.